...
sorti en fin d'année 2010 :
expo67 not just a souvenir
Editeur : University of Toronto Press (1 octobre 2010)
Par Rhona Richman Kenneally and Johanne Sloan
Langue : Anglais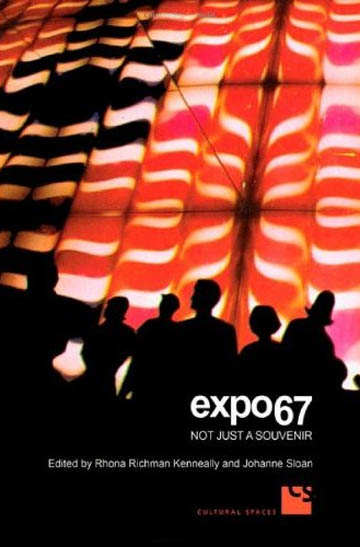 Expo 67, l'Exposition universelle se tient à Montréal pendant l'été de 1967, introduisant l'architecture, l'art, le design et la technologie, dans un ensemble brillant et moderne. Elle annonce la ville idéale du futur à ses visiteurs, le site de l'Expo a été perçu par les critiques comme un laboratoire pour la conception urbaine et architecturale ainsi que pour les échanges culturels, destinés à améliorer la compréhension globale et la coopération internationale. Cet ouvrage apporte de nouvelles perspectives critiques à l'Expo 67, un événement qui a laissé un matériel important et de l'héritage d'imagination.
Les contributeurs de ce volume reflètent la diversité des approches interdisciplinaires et 67 Expo présente avec un large spectre allant de l'architecture et le cinéma ou plusieurs marqueurs éphémères comme des cartes postales, menus, affiche pavillon, ou les uniformes des hôtesses employées sur le site. Collectivement, il essaie d'explorer les questions de nationalisme, de l'interaction entre tradition et modernité, le discours du XXe siècle sur l'expérience urbaine, et l'impact durable de l'Expo 67 de l'expérimentation technologique.
Expo 67: Not Just a Souvenir est l'examen d'une exposition internationale qui a eu un profond impact au niveau local, national et international.