...
le film sur Expo 67 à Montréal est en cours de finition, mais déjà depuis pas mal de temps, je bosse sur le prochain, qui porte sur Expo'70 à Osaka.
Je ne suis pas en avance, car j'ai pas mal de soucis en terme de documentation... ce qui semble devenir chronique avec les expositions les plus proches de nous. Les progrès des techniques de communication ont fait diminuer le nombre de livres ou de cartes postales éditées lors de ces évènements...
Même si j'ai déjà fait une sélection, quant à ce qui sera reconstitué, il n'en demeure pas moins que continue de rechercher activement de nouveaux documents...
deux sont arrivés aujourd'hui...
Pour commencer, un guide, écrit par Myra Waldo,
Japan Expo'70 Guide - A new world comes to life in the heart of old Japan
.
Comme son nom l'indique, c'est un guide, mais moins proche des guides d'exposition que d'un guide de voyage. en fait, on y trouve peu de description de l'exposition, mais beaucoup de conseil pour préparer son voyage et venir au Japon. Ce n'est donc pas le genre d'ouvrage qui est le plus adapté dans le cadre de mes réalisations. De plus, on y trouve pratiquement aucune illustration, en dehors de quelques graphiques.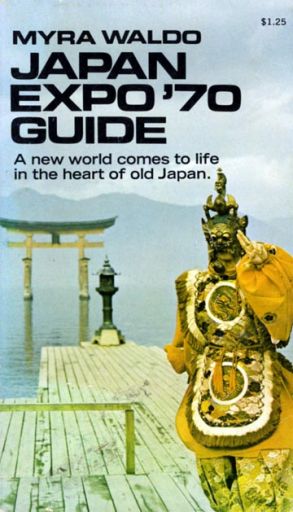 Myra Waldo - A new world comes to life in the heart of old Japan. - Ed. Collier Books N.Y. - 320 pages - Format 105 x 180
En revanche, le second est beaucoup plus intéressant : Seeing Expo'70 - Guide to Japan World Exposition.
Cette fois-ci, on se trouve face à un vrai guide (en anglais), richement documenté et illustré, certainement pas le format le plus adapté pour les visiteurs de l'Expo, mais en tout cas un ouvrage des plus utiles pour moi, et un bon complément au Guide Officiel... que j'ai la chance de posséder, en français.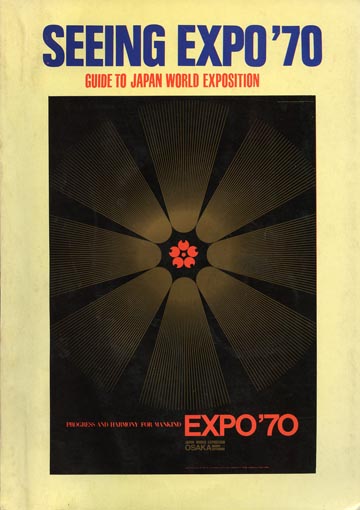 The Mainichi Newspaper - Progress and Harmony for Mankind - 224 pages - Format 180 x 260