...
CIRCARAMA
Le pavillon du Circarama.
Dernière née des techniques cinématographiquees, le "Circarama" est présenté pour la première fois hors des Etats-Unis à l'Exposition de 1958 à Bruxelles.
En rouge, l'emplacement du Circarama par rapport au pavillon des Etats-Unis à Expo'58.
Bleu : pavillon des USA - Rouge : Circarama
Il emmène les visiteurs du Pavillon américain dans une randonnée pittoresque à travers les Etats-Unis.
Un auditorium spécial équipé de onze projecteurs synchronisés a été aménagé pour la projection d'un film, qui situe véritablement le spectateur au coeur des villes et des villages américains, des usines et des campagnes qui se succèdent de l'Atlantique au Pacifique.
Les 11 projecteurs synchronisés.
Le film est projeté sur un écran de 62.80 mètres de long qui entoure complètement le spectateur. Des avions ont photographié spécialement ces scènes américaines pour "Circarama" et seules les meilleures sélections sont présentées ici.
On ne peut imaginer plus attachante introduction à la vie des Etats-Unis.
Il est bon de noter qu'un procédé similaire a été breveté en 1897 par un inventeur français du nom de Raoul Grimoin-Sanson, sous le nom de Cinéorama.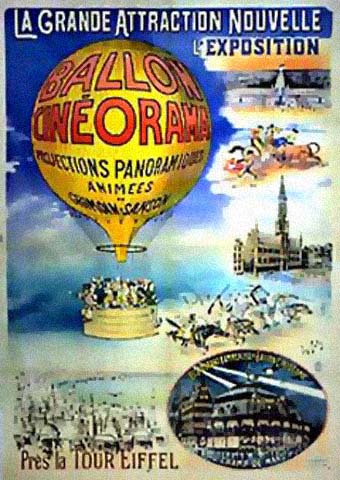 Le premier film de démonstration avait été tourné en Belgique à bord d'une montgolfière afin de faire revivre au public l'ascension simulée d'un ballon.
Le Cinéorama était présent lors de l'Exposition universelle de 1900 à paris, et devait permettre cette fois, la visite de pays plus lointains et faire découvrir en l'espace de quelques minutes les vastes horizons du désert parcourus par la galopade effrénée d'une fantasia arabe, les élégances pimpantes du carnaval de Nice, la furieuse mêlée des batailles, les cortèges populaires parmi les architectures gothiques des vieilles villes flamandes, l'émotion des courses de taureau en Espagne...
Hélas, le fonctionnement de cette attraction ne fût que de trois jours, les dix projecteurs synchronisés à lampes à arcs dégageaient tellement de chaleur qu'un incendie se déclara.
Pour des raisons de sécurité du public, l'attraction fut fermée.
Projecteurs du Cinéorama de Raoul Grimoin-Sanson, au Musée des Arts et Métiers à Paris.
CIRCARAMA
It's the newest motion-picture technique, is shown for the first time outside the United States at the 1958 Brussels Exhibition.
The site today, USA pavilion at left... and Circarama at right...
It is used in this setting to take visitors to the American Pavilion on an colorfullc cinematic tour of the United States.
Shown in a special auditorium equipped with eleven synchronized projectors, the picture literally puts the viewer "in the middle" of scenes of American cities and towns, factories and rural areas from coast to coast.
Projected on a 206-foot long screen which completely surrounds the audience with sight and sound. Specially-equipped photographic airplanes toured the United States for these scenes, the best of which appear on the giant Circarama screen...
It's certainly the next best thing to an actual visit to the United States itself.
It's good to note that a similar process was patented in 1897 by a French inventor named Raoul Grimoin-Sanson, the Cinéorama.
The first demonstration film was shot in Belgium in a hot air balloon in order to revive the public the simulated ascent of a balloon.
The Cinéorama was present at the 1900 Expo in Paris, and was to this time, discover in a few minutes the vast horizons of the desert traversed by a frantic gallop fantasia Arab and crisp elegance's carnival of Nice, the furious melee battles; processions popular with Gothic architectural old towns of Flanders and emotion bullfights in Spain ...
Unfortunately, the operation of this attraction was only three days, ten projectors synchronized with arc lamps gave off so much heat that a fire broke out.
For reasons of public safety, the attraction was closed.
The Circarama building is today the VRT (Flemish television).